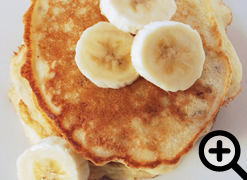 Ingredients:
2 cups whole wheat flour
2 tsp baking powder
1/4 tsp salt
1/4 cup brown sugar
1 tsp cinnamon
1/4 tsp nutmeg
2/3 cup milk
1 tbsp vanilla extract
3 ripe bananas
2 tbsp butter
Directions:
1. Combine flour, baking powder, sugar, salt, cinnamon, and nutmeg in a large bowl.
2. Whisk together the dry ingredients and add in milk and vanilla.
3. Add mashed bananas and melted butter.