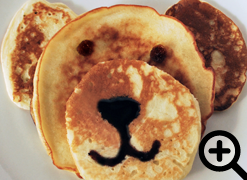 Ingredients:
1 1/2 cups flour
3 1/2 tsp baking powder
1 tsp salt, 1 tbsp white sugar
1 1/4 cups milk
1 egg
3 tbsp butter (melted)
raisins, chocolate sauce
Directions:
1. Combine flour, baking powder, salt and sugar.
2. Whisk in the milk, egg and melted butter until smooth.
3. Stack pancakes into bear face and add raisins for eyes and chocolate sauce for mouth and nose.