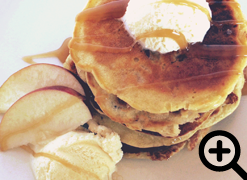 Ingredients:
2 1/2 cups apples (finely chopped)
1/2 cup boiling water
2 1/2 cups flour
1 tsp baking soda
2 tbs brown sugar
2 cups milk
1/3 cup butter (melted & cooled)
1 egg, caramel sauce, vanilla ice cream
Directions:
1. Place apples in a heatproof bowl over boiling water for 10 minutes until soft.
2. Combine flour and sugar in a bowl.
2. Add milk, butter, egg and apples. Whisk well.
3. Once cooked, top with a scoop of ice cream and caramel sauce.