Potato Spirals – Spirales de pommes de terre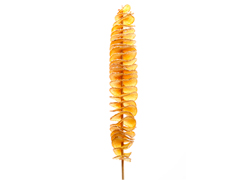 Ingredients:
Large Size Potatoes.
Grosses pommes de terre.
Directions:
Once you have made your raw potato spirals with the Joie Spiralizer, carefully insert each on to a skewer pulling the spiral layers apart.
Set the skewers on the edges of a baking dish so that the potatoes don't touch the bottom of the dish.
Drizzle with vegetable oil and sprinkle with desired amount of seasoning ble, rotating to cover as much potato as possible.
Bake for 40 to 45 minutes at 350 ºF (177 °C) or until lightly browned and crispy, turning occasionally.

Après avoir coupé les spirales de pommes de terre crues avec le spiraleur JOIE, planter les spirales délicatement dans une brochette en séparant les couches.
Placer les brochettes sur les bords d'un plat de cuisson afin que les pommes de terre ne touchent pas le fond du plat.
Arroser d'huile végétale et saupoudrer les assaisonnements de votre choix en tournant les brochettes pour couvrir toutes les pommes de terre.
Cuire à 177 °C (350 °F) pendant 40 à 45 minutes ou jusqu'à ce que les pommes de terre soient croustillantes et légèrement dorées.