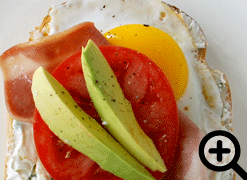 Ingredients:
2 eggs.
Bacon.
Toast.
2 oz. cream cheese.
1 tsp. chopped parsley.
1 tsp. chopped green onions.
Tomato.
Avocado.
Directions:
In a bowl mix cream cheese, parsley and onion.
Butter toast and fry in the Small Fry Pan on each side.
Remove from heat and spread cream cheese on each slice.
Fry eggs and place on toast.
Add cooked bacon, tomato slices and avocado.